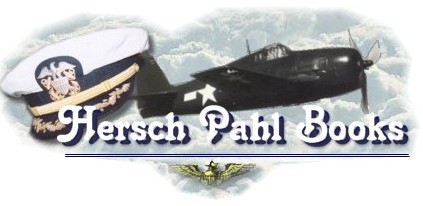 Point Option
Price:

$37.00

includes S/H. There are several Prices with Faster Shipping.

See Order Page

.
Author: Herschel A. Pahl
Format: Flex Cover, 361 pages.
ISBN: 1-57087-508-1
Publisher: Self-Published. This Book will soon be out of Print, so if you wish it in Book Form, get your copy today!

The Second Edition of POINT OPTION is now available for sale but is in short supply - you should get your order in before they are gone!
The book is "perfect bound" and the flexible deep blue cover has beautiful gold leaf stamp lettering. For a close-up view of the cover, click on the picture of it above.
This Second Edition now includes maps, charts, sixty nine photographs (some in color), some additional stories and several added sections. Some of the "Old Timers" who also have the First Edition of POINT OPTION are very well pleased and have expressed their delight with this really professional update and expansion. They continue to be amazed at the accuracy of the many details related and the capture of the atmosphere of the times. They appreciate being able to place so many of their comrades with specific events of WW-II. In short, they have been very complementary toward the new book.
---
Hersch Pahl's Division on USS Hancock (CV-19) in Tokyo Bay Sept '45. L-R - Maurice Shay, Richard Olson, Herschel Pahl and Daryl Grant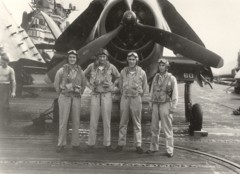 P
oint Option is a full length book (361 pages) which contains the personal memoirs of Herschel Pahl, while he was a Navy fighter pilot, flying from aircraft carriers. He wrote the book from his own experiences while flying combat missions during WW-II with the famous Navy Fighter Squadron-Six (VF-6) which was commanded by "Butch" O'Hare. In addition to flying in the tactical organization, Pahl kept the master log (and his own private journal) of all flight activities as well as the pilots personal flight logs. The Point Option covers the aircraft carrier action of both the U.S. and Japanese forces during the whole war in the Pacific portrayed against a common timeline.


S
pecifically, this book is considered to be an accurate account of all the action his squadron was involved in during three different tours of combat duty involving six different aircraft carriers; Independence, Princeton, Belleau Wood, Cowpens, Intrepid and Hancock.

Hersch next to his P80
Chase Bird at Point Mugu, CA
Early 50's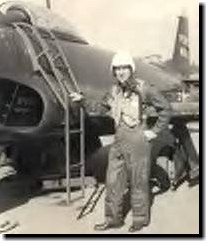 I
n addition to the WW-II story, Point Option also includes an exciting account of the flying that Hersch Pahl did in support of the Navy's early research and development of guided missiles at Point Mugu, California. Hersch chased many missiles being tested and in some cases had to shoot some of them down that were not performing correctly for safety sake.