H
erschel "Hersch" Pahl was the second son in a family of six children. He grew up on his parents' farm in southern Nebraska during the great drought and depression of the '20s and '30s. As he learned to make his own way, he worked on neighboring farms, ran a truck garden with his brother and was a part time fur-trapper in the wintertime. He was an athlete and played football at the University of Nebraska (Scout squad 1938 & 1939) and Kearney State College (Varsity 1940 & 1941).
Above Right, you see Hersch Pahl in his Officer's uniform with Captain's Stripes. Hersch was known as a "Mustang" - one who begins his Navy Career as a Seaman and retires after 30 years as a Captain. These men are a rare breed who deserve great respect for their hard work and accomplishments.

Soon after "Pearl Harbor" he joined the Navy and after completing flight training at Jacksonville, Florida was commissioned Ensign, USNR.
A
fter being carrier qualified on the
USS Charger (CVE-30)
in Chesapeake Bay, he was ordered to San Diego along with several of his training buddies. Here they joined "Butch" O'Hare who was re-forming Fighting Squadron Three.
"Hersch" and his friends were proud to wear the "Felix the Cat" patch which was the squadron insignia that had come from the old
USS Lexington (CV-2)
and had been worn by "Butch" when he saved his ship by bagging five enemy bombers in a single flight. Later, President Roosevelt presented the Congressional Medal of Honor to him.
Pahl served in Butch's fighter squadron from March '43 until after the end of WW-II. The name was changed from VF-3 to VF-6, but Pahl and some of his close buddies continued to be the backbone of the squadron through three consecutive combat tours against the Japanese.
P
ahl scored his first victory in the air against enemy aircraft at Wake Island October '43 and won his first aerial dog fight over Turk Atoll February '44. Other victories came during the invasion of Okinawa and while operating over and near the Japanese Mainland during the last months of the war. His last victory came in a dog fight over lower Tokyo Bay just after the Japanese had thrown in the towel.


To find an additional photograph of Hersch Pahl and the announcement of his first victory in the air against the enemy, along with other information about Butch O'Hare, go Here.

During the war in the Pacific, he landed his fighter plane on 15 different aircraft carriers and flew combat flights from four. See the Dedication Page for details on these Aircraft Carriers.
Ray Killian's photo of Daryl Grant, David Kipp and Hersch Pahl - their first post-war photograph.



Herschel "Hersch" Pahl
was full of smiles when the war had ended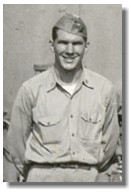 Information on the P-80 is here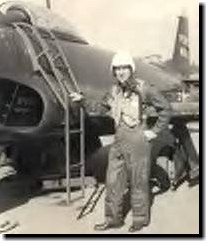 A
fter the war, "Hersch" took time out to complete work on a college degree and then became involved in the Navy's efforts to develop and test guided missiles.
At Point Mugu, CA, he had an exciting time chasing guided missiles in one of the Navy's early jet aircraft and shot down several that refused to do what they were supposed to do.
Pahl received more schooling at the Navy Schools in Monterey, CA and at Sandia Base, Albuquerque, NM before becoming involved in the Navy's nuclear weapon program where he served in a carrier based heavy attack squadron in the Mediterranean Sea operating from two different aircraft carriers.
The Skipper's AJ-1 Savage from Heavy attack Squadron VC-7 doing carrier qualifications aboard USS Wasp CV-18 on Feb 29, 1952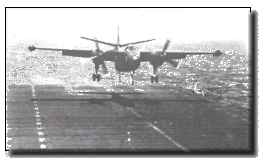 T
he Heavy Attack Squadrons deployed in the Sixth Fleet in the Mediterranean, flew the AJ-1 Savage. It was a long range all weather, heavy attack plane that could carry the 60" 10,000 lb nuclear weapons from the carrier. It was powered by two recip. engines and one jet in the tail. From the carrier it was capable of striking enemy targets deep into potential enemy territory. It had a crew of three, and was radar equipped. When the AJ squadron was not aboard the carriers for specific missions or fleet exercises, they were stationed at Port Lyautey (near Rabat) in French Morocco, Africa.
AJ-1 Savage in Flight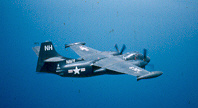 T
he
USS CORAL SEA
was commissioned CVB-43. On 1 Oct 1952 her designation was changed to CVA-43. Hersch states, "
Our last operation aboard her was on the 6th and 7th of Sept 1952, a couple weeks before she became CVA-43. On April 15, 1957 she was decommissioned in Puget sound Navy Ship Yard to have her angled deck and other major alterations made. (I was there also, aboard the
USS Hornet (CV-12)
and watched it happen)
."
She was recommissioned on Jan 26, 1960 and sent west for duty in the Seventh Fleet. She was very active all through the Vietnam War. After the bombing was halted on Nov 1, 1968 she returned to Alameda April 18 1969. Final decommissioning took place April 30, 1990.
He instructed in the Navy Nuclear Weapons School, served as assistant Air Boss on the carrier Hornet, commanded a Heavy Attack Support Squadron, and served three years in the Nuclear Weapons Effects business at the Defense Atomic Support Agency (DASA). Later, he joined the staff of Commander Seventh Fleet in the Pacific as the Strike Operations Officer, where he served three years during the Cuban Missile Crisis and Viet Nam.
In 1964, he became involved in the nuclear targeting business with the Joint Strategic Targeting Staff (JSTPS) at Omaha, where he served for three years as the Deputy Commander of the Intelligence Division.
He retired in '73 after serving the last five years of his thirty-one year Naval career on the faculty of University of Nebraska (Professor of Naval Science), retiring to his cattle ranch and tree farm in Southern Missouri which he called "U Bar Seven".
Here, he was a tree farmer; produced furniture-grade lumber; made fine furniture; raised cattle; grass and grand children.

He married Bonnie B. Lawrence of Kansas City in 1943. They have three adult sons and a passel of both grandchildren and great-grandchildren.

Hersch's personal military awards include the LEGION OF MERIT "for exceptional meritorious service" and the MERITORIOUS SERVICE MEDAL "for outstanding meritorious service". He was also awarded THE DISTINGUISHED FLYING CROSS two different times "for heroism and extraordinary achievement in aerial flight combat" and THE AIR MEDAL ten different times "for meritorious achievement in aerial flight". In addition, he wears a UNIT COMMENDATION ribbon.
Today, Bonnie and Hersch live in their very nice subburban home in Ava, Missouri..

where they continue to be happy as a couple, after celebrating their sixty-sixth year of marriage.