About the Cover - Point Option
For a close-up view of the cover, click on the picture of
it above.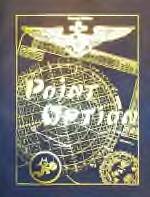 T
he "Navy Wings of Gold" holds the most prominent space upper front and center. This is the coveted symbol of both the Navy and Marine Corps pilots. It is worn proudly by Naval and Marine Corps officers who have been properly trained and have been designated as "Naval Aviators". The wings can also be used to adorn the covers of books, logs, art work and various documents pertaining to Naval Aviation.


T
he round circle framing the famous old comic strip cartoon, "Felix The Cat" is a replica of the squadron insignia used by the Fighting Squadron - Six (VF-6), during three WW-II combat cruises 1943-1945. Early in WW-II "Felix The Cat" was the squadron insignia which "Butch" O'Hare had on his plane when he shot down five enemy aircraft on one flight to save his ship, USS Lexington. That day he became the Navy`s first "Ace" and later received the Congressional Medal Of Honor from President Roosevelt. "Butch" O'Hare later became the skipper of VF-3. While he was re-forming the squadron with new personnel, the name and designation of the squadron was changed to VF-6, but he kept the old insignia and "Felix The Cat" became the insignia for VF-6.
T
he presence of "Felix The Cat" on the cover, announces that this book is mainly about "
Butch" O'Hare`s Fighting Squadron - Six
."


P
ictured in the background of the cover design is a characteristic view of a pilot`s navigation (Mark III) plotting board. It shows a partially worked navigation problem on its face and a trusty computer or circular slide rule on the lower right corner. This computer is used by pilots during flights to make quick calculations concerning time, distance, speed, fuel consumption and the conversion of various factors.


T
he title, Point Option, is printed using a bold Oriental stylized letter, which appealed to the author because it tends to indicate that the setting for this story involves the battle ground of the Western Pacific and the Far East.